Clinical laboratory
We offer a service integrated by a multidisciplinary group of health professionals in support of clinical diagnosis, whose objective is to provide the tools that allow the doctor to integrate information to study, prevent, diagnose, and provide the best treatment.
Clinical Laboratory
We offer a service integrated by a multidisciplinary group of health professionals in support of clinical diagnosis, whose objective is to provide the tools that allow the doctor to integrate information to study, prevent, diagnose, and provide the best treatment.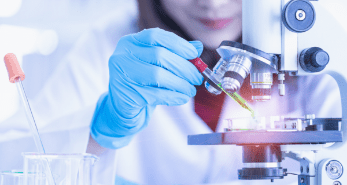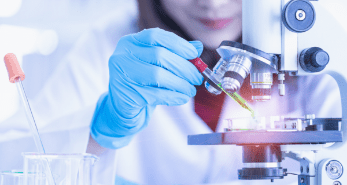 We are recognized as a specialized diagnostic service and leader in laboratory medicine.
We are governed by the highest quality, ethics, and professionalism standards, complying with national and international regulations to guarantee accurate, reliable, and timely results.
We have state-of-the-art technology and the necessary supplies to provide excellence, confidentiality, and quality.
Since 2007 we have the College of American Pathologists (CAP) Accreditation, an international body that constantly monitors that all our processes have the highest level of care and quality.
Clinical Pathology Laboratory
Clínica
The ABC clinical pathologists have solid scientific and technological bases in order to provide a reliable, professional, ethical, and safe service to doctors and patients who request it.
Our catalog is made up of more than 3,000 tests. 90% of the studies are processed in our facilities by expert chemists with cutting-edge technology to guarantee reliability and delivery of results. The alliance with internationally recognized laboratories allows us to offer highly specialized studies.
Within the different types of clinical analysis, we have the following: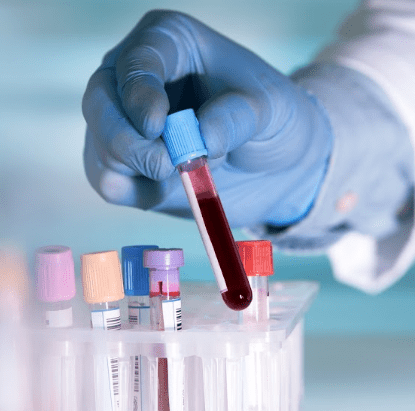 It is a much-requested blood test by doctors to know the chemical levels in the blood.
They are the clinical tests that thoroughly investigate the blood and its components (red and white blood cells, platelets, proteins, vitamins, etc.).
It is a study that allows to measure levels of various substances in the blood. These substances include electrolytes (sodium, potassium, and chloride), fats, proteins, glucose (sugar), and enzymes.
Patient material is collected to analyze it and evaluate risks of infections, characteristics or factors causing them.
Surgical Pathology Laboratory
Surgical Pathology is the study of tissues and fluids obtained from patients during surgery, with the aim of diagnosing a possible disease and determining the treatment to be followed. Surgical pathologists provide diagnostic information and second opinions that supplement information and support the medical specialist.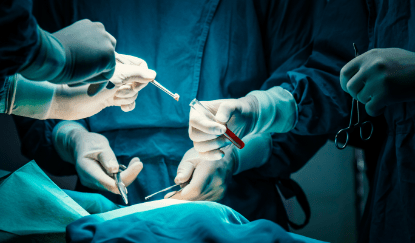 Immunohistochemistry: They help diagnose diseases such as cancer and its different types. At Centro Médico ABC, we have a test battery of 280 different markers for the precise classification of different neoplastic, infectious, and inflammatory diseases, which are evaluated and integrated into the diagnostic interpretation performed by a team of eleven pathologists with subspecialties in the most important fields of pathology (oncopathology, gynecology and mammary, uropathology, nephropathology, thoracic pathology, hematopathology, neuropathology, bone and soft tissues, gastrohepatology and infectious pathology)
Intraoperative: In a surgical procedure, a pathologist, together with the surgeon, makes a clinically relevant intraoperative decision. Most of the time, it consists of confirming that a neoplasm is present and determining whether it is benign or malignant, primary or secondary, or of a type that requires, by its own characteristics, total removal.
Molecular Pathology Laboratory
The application of molecular biology knowledge is now part of daily clinical practice in many fields of medicine; such as oncology, infectology, genetics and in the diagnosis of diseases. In many cases, the determination of genetic characteristics is a requirement for prescribing treatments, monitoring, or as prognostic indicators.
Molecular pathology is dedicated to the use of molecular biology techniques applied to the identification of alterations in nucleic acids or proteins whose identification contributes to the diagnosis of diseases or variants susceptible to specific treatments.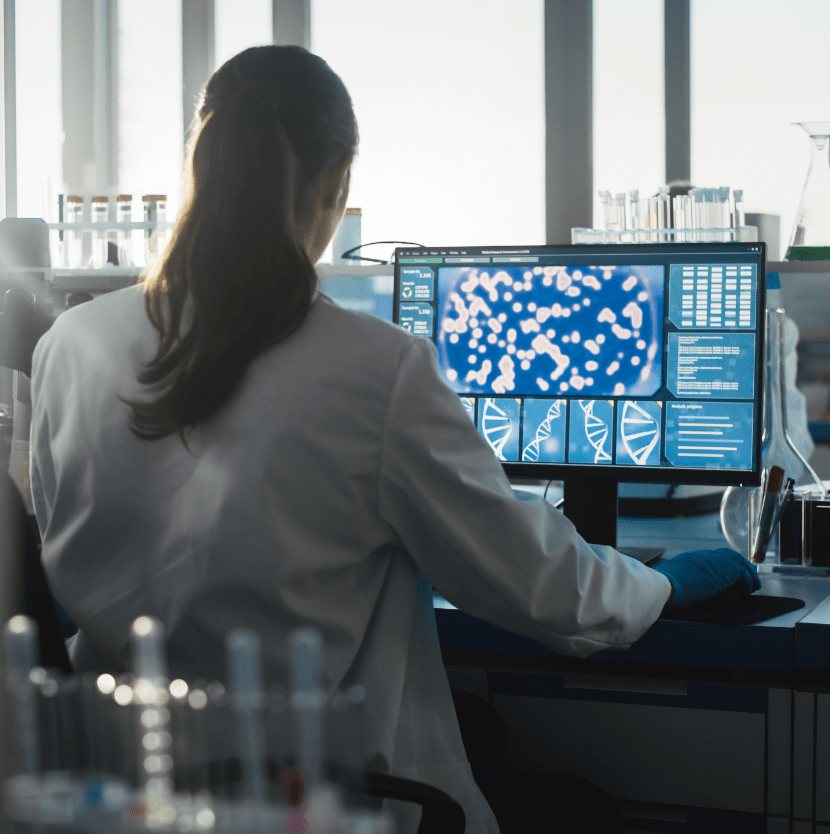 The laboratory currently has three study methodologies:
End-point PCR (polymerase chain reaction): This is a laboratory technique that amplifies small pieces of DNA to identify microscopic germs that cause disease.
Real-time PCR (quantitative):it is an exponential amplification process that allows us to detect minimal amounts of DNA present in the sample.
FISH (fluorescent in situ hybridization): A fluorescent dye is used that binds to a piece of DNA helping our researcher to identify where a specific gene is located within an individual's chromosomes.
These methods allow us to identify nucleic acid sequences of interest and detect them by means of specific fluorescent probes. Currently, the laboratory offers tests focused on the identification of molecular targets for the indication of specific oncological treatments (determination of KRAS mutations, EGFR, ALK rearrangements, 1p/19q, HER2 amplification), as well as the identification of genetic lesions of diagnostic relevance (rearrangements of bcl-2, bcl-6, ALK, cyclin D1, SYT, and c-myc).
Given the importance of this type of studies in the management of patients, we have selected the reagents and follow the protocols approved by the FDA (US Food and Drug Administration) for In Vitro diagnosis, produced by companies with international recognition in the area and we continue the management guidelines outlined by the College of American Pathologists. 
The tests carried out in the Molecular Pathology Laboratory depend on the needs of the clinical groups, according to the particular diagnosis and treatment needs of each area. For this reason, we continually collaborate in the implementation and development of new tests to solve the challenges that the optimal health care of our patients demands.
We are an accredited Laboratory under the strictest quality standards, such as the College of American Pathologists for 10 years, which endorses each of our processes in terms of quality and safety.
This accreditation allows us to:
Reinforce the reliability of our Clinical Laboratory results
Stimulate continuous improvement in the care of our patients
Increase efficiency in our procedures and services
Create a continuous learning organization
Improve security in our facilities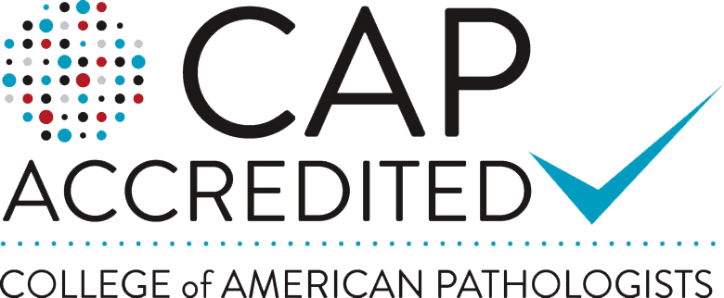 What is the College of American Pathologists (CAP)?
It is an association made up of approximately 18,000 certified pathologists considered a leader in laboratory quality assurance. It serves patients, pathologists, and the public by promoting and advocating best practices in pathology and laboratory medicine. College of American Pathologists.
¡Abrimos nuestra línea de WhatsApp!
Cotiza tus estudios y resuelve tus
dudas sobre facturación.
Horario de atención 24/7.