The Physical Medicine and Rehabilitation area of ABC Medical Center, Santa Fe Campus, presents the new antigravity treadmill (Alter G Stride Smart), a state-of-the-art equipment that uses NASA technology to facilitate physical rehabilitation.
Powered by NASA's DAP (Differential Air Pressure) technology, this equipment combines precision body weight suppression technology with real-time analysis of steps taken and video feedback.
Patients using the Alter G Stride Smart will be able to move in a new and pain-free way to regain their mobility and improve their well-being, and physical performance. To achieve this, the antigravity treadmill uses air to reduce the weight load comfortably and precisely, reducing up to 80% of the person's weight.
This benefits the patient with a reduction in impact and gravitational force, but without compromising the body's natural biomechanics and its correct rehabilitation.
Different areas of the medical sector will benefit their patients with rehabilitation through the antigravity treadmill:
Low back pain
Postoperative knee or hip arthroplasty, menisci or cruciate ligaments repair
Pelvic limb fractures
Lumbar spine, pelvis, or coccyx
Spinal cord injuries
Multiple sclerosis
Patients with a stroke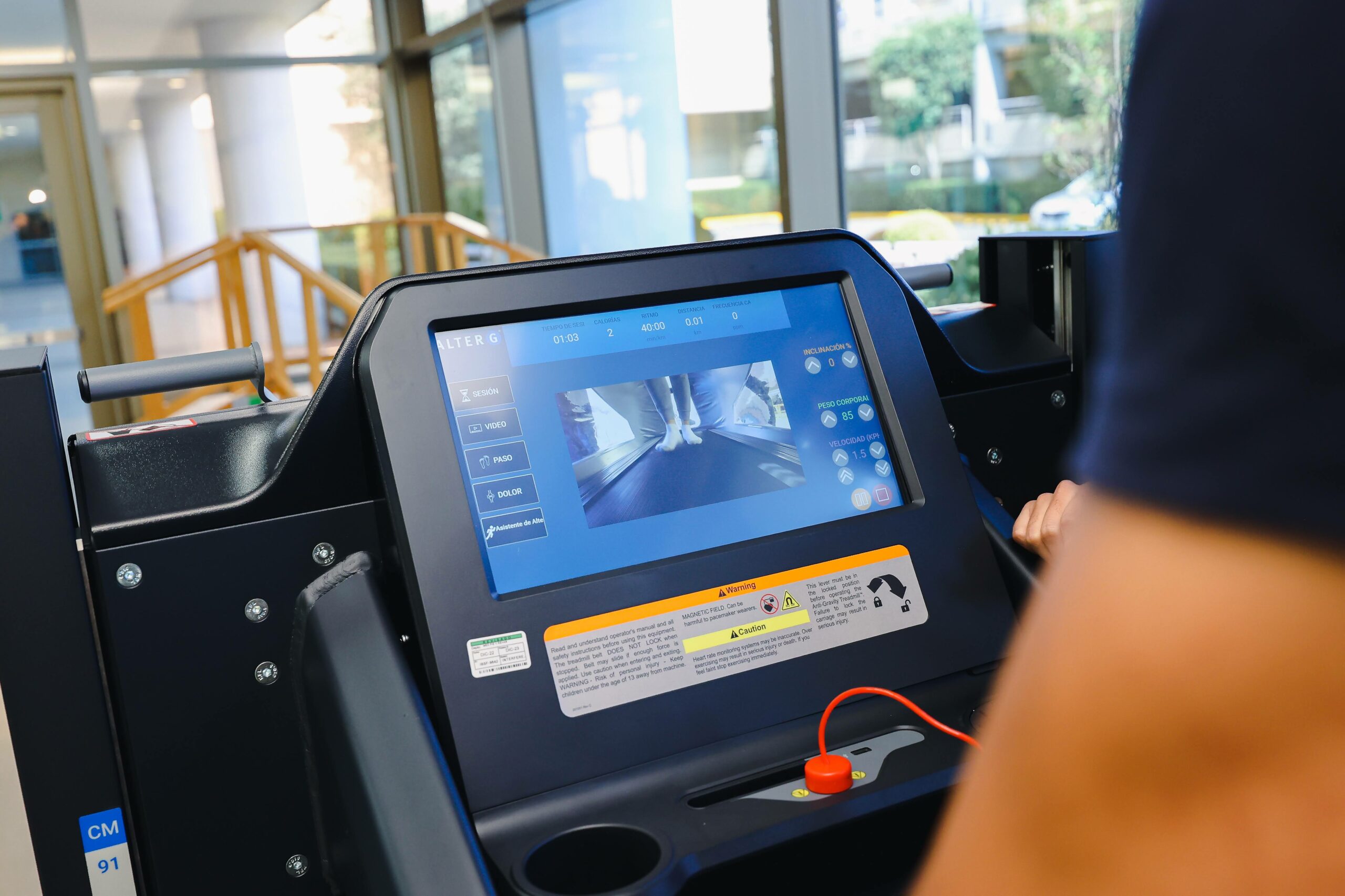 Benefits of rehabilitation with the antigravity treadmill (Alter G Stride Smart)
This treadmill's different technologies allow patients not only to have a less painful rehabilitation but also to benefit as follows:
Step cadence count per minute.
Promotes range of motion and normalizes gait mechanics.
Patients with open wounds who cannot use a water tank or tub therapy can use this equipment.
It allows better rehabilitation in patients with grafts that prevent them from carrying their full weight during rehabilitation (cruciate ligament, bone grafts, etc.).
Symmetry in weight support (percentage loaded on each foot).
Symmetry on the weight placed on each foot during the step.
Symmetry in stride length.
Limits inactivity due to injuries.
Real-time monitoring allows to improve the patient's gait.
It replaces the therapy with crutches or walkers, providing greater safety.
Reduces the barrier to exercise in users without physical fitness.
It provides objective data and encourages long-term patient engagement.
Thanks to AlterG ® Assistant, patients will be able to maximize their time and productivity on the equipment, through pre-programmed and fully automated therapy sessions, which can be stored in their own library for a better-personalized experience for the user.
The Alter G Stride Smart is a device with state-of-the-art technology that allows ABC Medical Center to stay at the forefront, offering the best care to its patients.
We can provide specialized care at ABC Medical Center's Physical Medicine and Rehabilitation Area. Contact us!