What is an aneurysm?
An aneurysm is the abnormal dilation of a blood vessel that occurs due to weakness or degeneration of one of its layers.
Aneurysms most commonly occur in the abdominal aorta, the main artery that carries blood to the pelvic extremities but can occur in any other vessel.
Real statistics in our country do not exist, but about 200,000 people in the United States are diagnosed each year with abdominal aortic aneurysms.
It is important to diagnose and recognize this pathology since its complications can be fatal. In the United States, a ruptured abdominal aortic aneurysm is the 10th leading cause of death in men over 55 years old.
It is known that direct relatives of patients with aneurysms have up to a 25% chance of developing this pathology.
Symptoms of abdominal aortic aneurysms
Most aneurysms are asymptomatic and are usually found when patients are being evaluated for some other medical condition.
A patient with sudden abdominal and back pain needs to seek immediate medical attention, as these symptoms may develop from a ruptured aortic aneurysm. There are risk factors for the development of an Abdominal Aortic Aneurysm.
There are risk factors for the development of an abdominal aortic aneurysm.
Inflammatory processes can weaken the aortic wall.
Being over 60 years old, family history of atherosclerosis, high blood pressure, high cholesterol levels, peripheral vascular disease, and tobacco use are associated with the formation of an abdominal aortic aneurysm.
Diagnosis is usually made by abdominal ultrasound or CT angiography.
It is important to see a vascular surgeon if you are affected by this pathology.
Abdominal aortic aneurysm treatment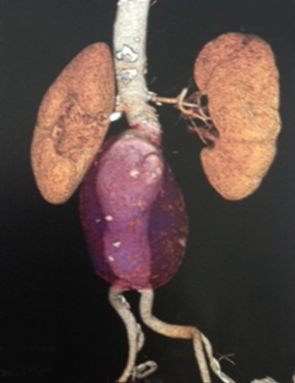 Abdominal aortic aneurysm angiotomography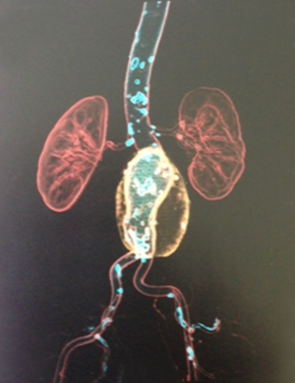 Exclusión endovascular de aneurisma de aorta abdominal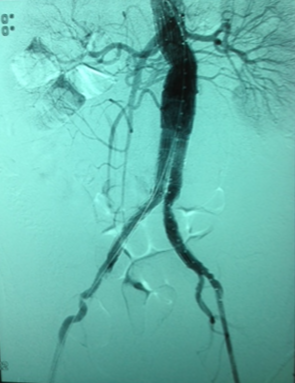 Post-treatment computed tomography angiography
Treatment depends on the size of the aneurysm. Small aneurysms are usually kept in observation because the risk of rupture is very low. Aneurysms bigger than five or 5.5 centimeters in diameter should be treated.
Currently, there are two types of treatment, one is open surgery, where the diseased segment is replaced with a graft, and, the most common, endovascular surgery, where these aneurysms are excluded through small incisions at the groin.
These procedures allow a faster and more efficient recovery for the patient.
At the Cardiovascular Center of the ABC Medical Center we can give you specialized care. Contact us!
Fuente:
Dr. Salomón Cohen Mussali – Medical specialist in Vascular and Endovascular Surgery of the Medical Center ABC.